Militex can apply a wide variety of industrial and military liquid finishings. We can coat small parts in volume with our conveyor-fed booths and ovens, and we can also coat entire vehicles or large components in our large booths. Our quality record is superb, with an acceptance rate of 99.5%, while producing hundreds of thousands of parts and hundreds of vehicles annually for our military and industrial customers.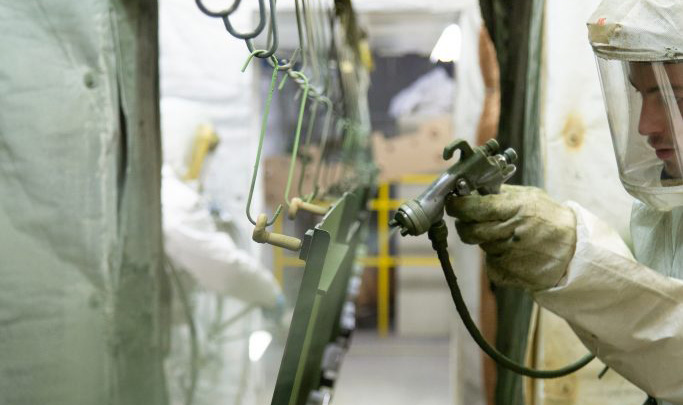 Our Capabilities
Militex has the following capabilities for liquid finishing:
7 parts booths, 3 of which are fed by 1800 feet of conveyor lines

3 ovens to force dry parts

2 large paint booths with trenches to paint the underside of vehicles

2 large paint booths with built-in oven capability to paint vehicle hulls or large components

Centralized paint distribution systems to reduce waste and inefficiency

Customized masking options such as vinyl cut by CNC cutters in-house, specialty masking, and plugs or screws

Customized fixtures produced in-house to optimize coating

Capable of meeting Class A finish requirements

Specialty coatings, like non-skid surfaces or high heat paints

Variety of colours and glosses in accordance with AMS-STD-595, Pantone matching system, Munsell color system, RAL colour standard, and others
Our Standards
We can meet:
A-A-59166:

Coating

Compound, Nonslip (for Walkways)

MIL-DTL-53022: Primer, Epoxy

Coating

, Corrosion Inhibiting Lead and Chromate Free

MIL-DTL-53039:

Coating

, Aliphatic Polyurethane, Single Component, Chemical Agent Resistant

MIL-DTL-53072:

Chemical Agent Resistant Coating

(

CARC

) System Application Procedures and Quality Control Inspection

MIL-DTL-64159: Camouflage

Coating

, Water Dispersible Aliphatic Polyurethane, Chemical Agent Resistant

MIL-PRF-14105: Paint, Heat-Resisting (for Steel Surfaces)
MIL-PRF-22750:

Coating

, Epoxy, High-Solids

MIL-PRF-23377: Primer

Coatings

: Epoxy, High-Solids

MIL-PRF-24667:

Coating

System, Nonskid, for Roll or Spray Application

MIL-PRF-85285:

Coating

: Polyurethane, Aircraft and Support Equipment

MIL-STD-171: Finishing of Metal and Wood Surfaces
MIL-STD-1916: DOD Preferred Methods for Acceptance of Product
MIL-T-81772: Thinner,

Aircraft Coating

MIL-T-704: Treatment and Painting of Material
Please contact us if the standard you need is not listed, and our team will review if we can meet your requirement.