Militex is North America's premier military and industrial paint finishing facility. We have maintained an impeccable quality record for decades and have a wide range of metal finishing options, can apply varied coatings for small and large parts, and complete value-added work.
History & Development
The plant opened in 1990 with only two small paint booths and a portion of its current facility but developed rapidly. We became a trusted supplier for General Dynamics Land Systems – Canada for the application of Chemical Agent Resistant Coatings (CARC) on the Light Armoured Vehicle (LAV) family. In the 1990s, we added varied metal finishing options, like a seven-stage zinc phosphate coating, and the capability to finish and assemble entire vehicles.
In the 2000s, the US Army bought thousands of Stryker armoured vehicles from General Dynamics, and Militex was, and is, a key contributor to this production. We expanded our operations to support production for this vehicle by improving our pretreatment capabilities and ability to sandblast and paint entire vehicles.
From the 2010s to the present, Militex has continually added capabilities to improve its efficiency, output, and quality. We now have 12 booths, four of which are fed by conveyors and can clean, pretreat, coat, assemble, and identify parts up to 20,000 pounds in size and weight. In addition to military work, Militex has painted rail cars for the Toronto Transit Commission and structural components for Ontario's nuclear power plants.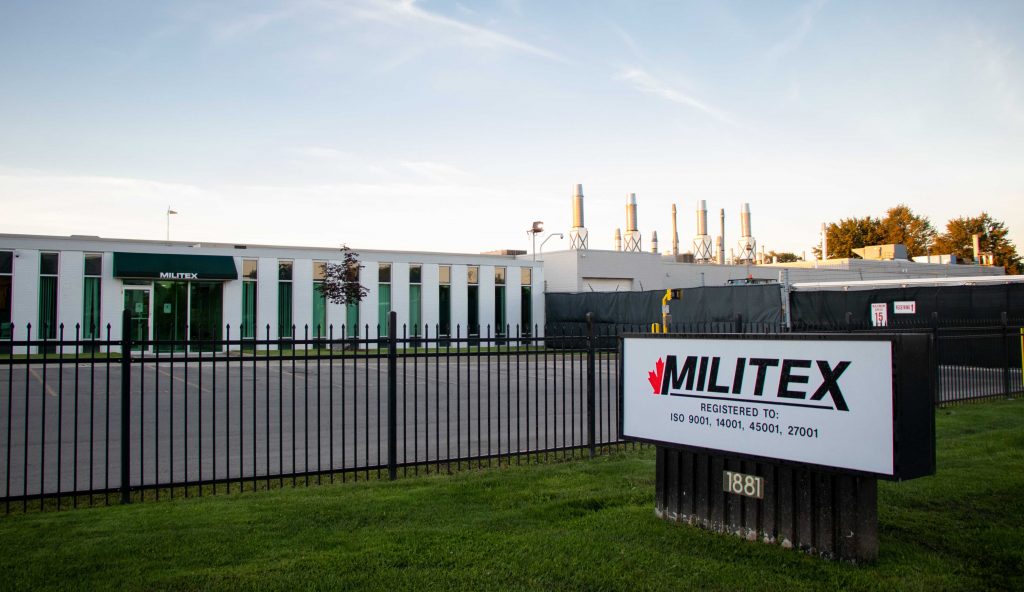 Facilities & Services
We have 150 experienced employees at our 100,000 square foot plant in London, Ontario, and process more than 300,000 parts per year. Our turn-around time is generally five business days.
We can load and process parts up to 20,000 pounds in weight and have large vehicle booths for sandblasting and painting. Our plant has four docks for shipping and receiving.
Our services include: